This portable Bluetooth keyboard folds up to be under 6 inches wide for easy portability
The keyboard Apple designed for its new laptops has gotten a lot of complaints for being uncomfortable to use, prone to breaking, and difficult to repair.
You only have one keyboard style option, so it's a difficult problem to fix.
Jelly Comb's foldable bluetooth keyboard is a good solution because it's easy to stow when folded, nearly full-sized when open, and it uses similar keys to Apple's previous-generation laptops.
Because it connects over Bluetooth, you can also use this keyboard with any Mac, PC, iOS, or Android device.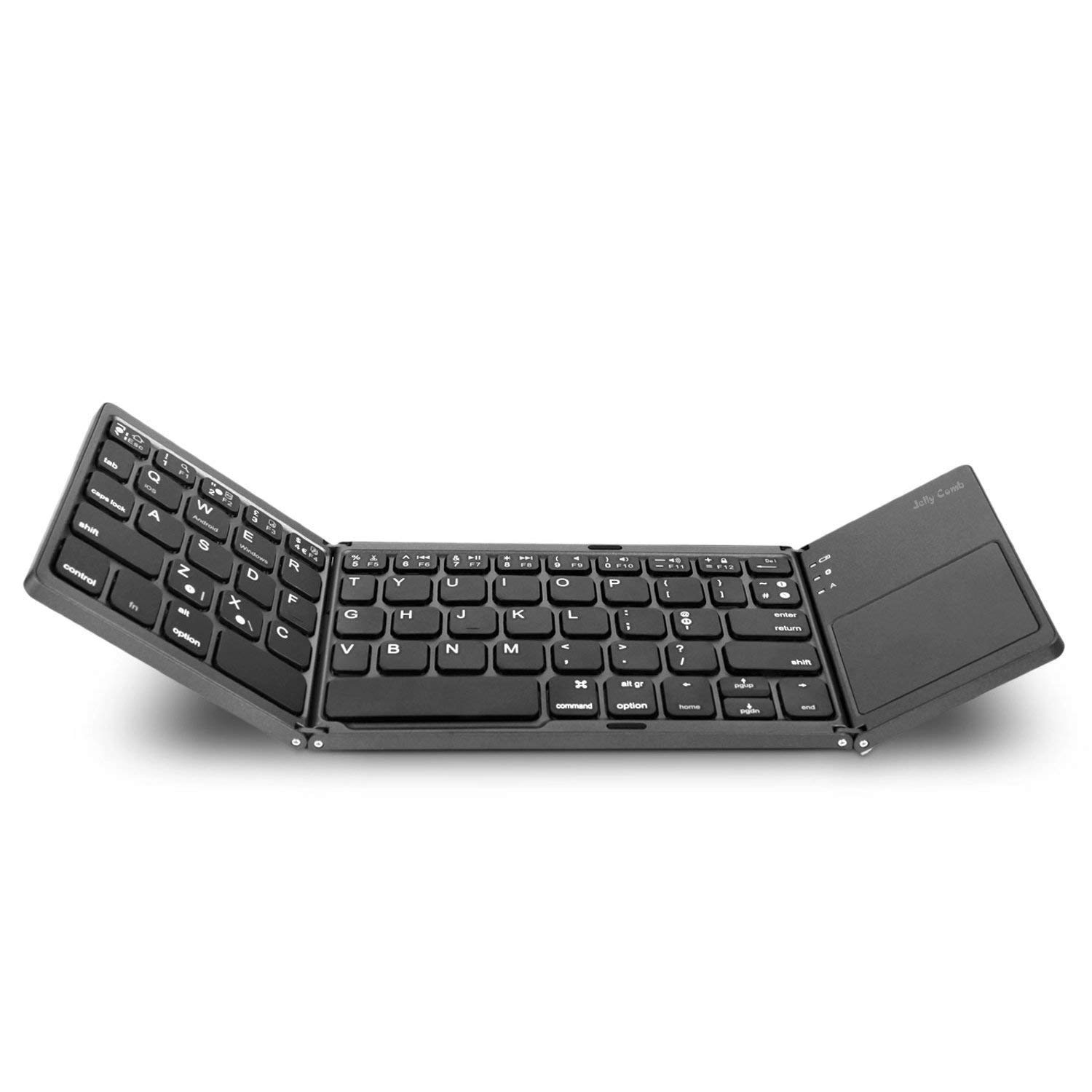 ---
An Insider Picks reader recently asked me for help in solving an increasingly common problem: discomfort using the keyboard on Apple's latest laptops. To make its portables slimmer, Apple switched from using a keyboard with scissor-style switches to butterfly-switches, which have less key travel, but can also be less comfortable to use for some people.
To make the situation worse, the new keyboard style is also more prone to damage from dust or crumbs, requiring a not-so user-friendly fix. There's no way to change the physical keyboard on a MacBook or MacBook Pro, but there is a workaround if you don't mind carrying around an extra accessory: Jelly Comb's foldable bluetooth keyboard.
An Amazon exclusive, the nearly full-sized keyboard measures about 12 inches wide when open, but just under six inches wide when folded up. It has Chiclet-style keys similar to the keyboard on previous Apple laptops, and there's even a trackpad on the right-hand side, which you can use to move a mouse cursor on a computer.
While it does have a full keyboard layout, there is a design choice that may frustrate touch typists. To accommodate the left-hand fold, the R, F, and C keys are all stacked right on top of one another, instead of staggered a little bit like they would be on a single-piece keyboard. Similarly, the T and V keys are half-sized, which could take a little while to get used to.
If you can get over those two problems, though, this keyboard should solve your typing problems on Apple's current line of portables, and since it connects via Bluetooth, you could also use it with any PC, Mac, iOS, or Android device. That's great, since carrying around a regular full-sized keyboard to get work done on an iPad is unwieldy, unless you get a keyboard case.
Whether you're trying to figure out an elegant workaround for the biggest flaw with Apple's current laptops, or just want an easy, hyper-portable way to type on a physical keyboard on-the-go, Jelly Comb's foldable option is a good solution.
If you want to see more from Insider Picks, we're collecting emails for our weekly newsletter. You'll be the first to hear about the stuff we review. Click here to sign up .

Follow us on Pinterest.

Disclosure: This post is brought to you by Business Insider's Insider Picks team. We aim to highlight products and services you might find interesting, and if you buy them, we get a small share of the revenue from the sale from our commerce partners. We frequently receive products free of charge from manufacturers to test. This does not drive our decision as to whether or not a product is featured or recommended. We operate independently from our advertising sales team. We welcome your feedback. Have something you think we should know about? Email us at insiderpicks@businessinsider.com.
Read the original article on Insider Picks. Copyright 2018. Follow Insider Picks on Twitter.