Article by: TechGuru         March 11, 2019      Source: Nerd Techy
You might love your keyboard, but if it doesn't have an adequate keypad. Maybe it has no keypad at all. Maybe you don't need an entire keyboard for the kind of data input you have in mind. In any case, for people who do a lot of data entry, getting a good wireless numeric keypad can make a pretty big difference.
Similar to comparing an ordinary keyboard to a mechanical keyboard, the difference really only matters when the keypad is seeing a lot of use. When you spend more than a couple minutes each day punching data into your numeric keypad, smooth data entry can be worth its weight in gold.
Choosing Wireless Numeric Keypads
For regular data entry, having the perfect keypad makes a big difference in a person's quality of life. For wrist and finger comfort, and in achieving reliable keystrokes during rapid data entry, getting the right pad is truly important. But how do you choose a good wireless numeric keypad?
Frequency of Use
The number one factor is simple. How often are you using the keypad? People who are making daily use of their numeric keypad will want a different pad than someone who's only breaking it out on occasion. They'll want a keypad with a longer battery life, and they'll care more about seemingly small ease-of-use details.
Extra Function Buttons
Every keypad will offer you a standard 0-9 numeric interface along with some keys to let you do arithmetic. And almost every keypad will offer some special features, or additional buttons to help make things a little more convenient. In some cases, these features are platform specific. So if you're a Mac user or PC user, you should be on the lookout for compatibility issues.
Battery Life
A good keypad should be able to provide a similar battery lifespan to a wireless keyboard or mouse. In other words, you're typically looking at about 6-months of frequent use. But some keypads are powered in different ways than others. Some revolve around rechargeable batteries, others use disposable AA or AAA batteries.
Portability & Type of Connectivity
Do you plan on using your keypad in a portable fashion? Need to move around the location of stuff on your desk, including the keypad? Want to be able to throw the pad in your bag and take it home from work? Some pads are more portable than others. Some end up being a bit weighty, others are slimmer and more portable.
Finally, does it connect over Bluetooth, or does it use Wi-Fi? There are minor advantages and disadvantages to each option, but what matters most is knowing your devices have the support for one of the two formats. A Wi-Fi connection will typically require a Wi-Fi adapter to be used, which means connecting with a USB port. Similarly, Bluetooth devices only work where Bluetooth is supported.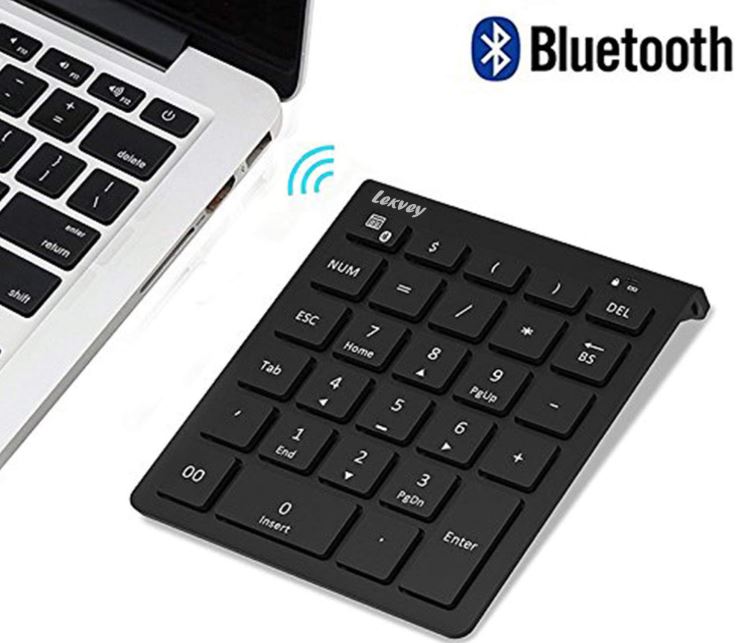 Lekvey Portable Wireless Bluetooth 28-Key Numeric Keypad
The Lekvey Portable Wireless Bluetooth 28-Key Numeric Keypad is actually a bit larger than a full sized keypad. For starters, this pad includes a 0-9 number grid, plus all the ordinary keyboard symbols which are typically cluttered around a numeric keypad. But then it goes on to include some of its own special keys, to help you get even more done from the keypad.
Build & Design
This keypad measures about 5.0 x 4.0 x 0.4 inches. In terms of size, it's pretty much like someone took a hacksaw to a full-sized keyboard, and sawed off the keypad section of the board. As you might expect, it's pretty lightweight, weighing only four ounces. Feels a bit like a calculator in your hands, and that isn't bad for portability.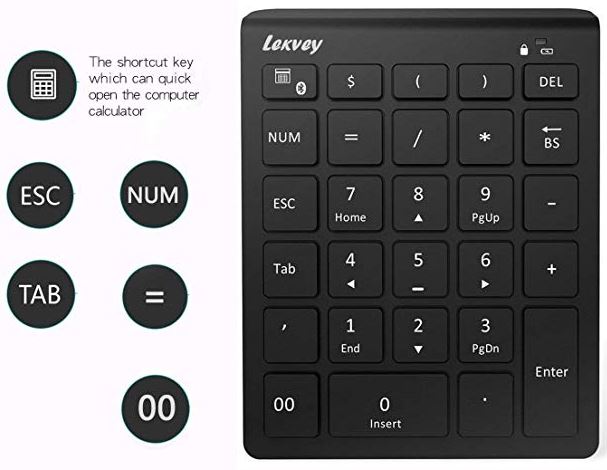 The pad can be angled at a slight tilt to better accommodate the wrist. The relatively small size of the pad makes it fairly easy to store away, and ensures it doesn't take up much space on a desk. Additionally, there's actually an additional row of buttons which are entirely unique to this keypad.
Where a keyboard keypad typically uses five rows of keys, the Lekvey Portable Numeric Keypad uses six rows. The additional row provides an excel function button, a dollar symbol, parenthetical keys, and a delete button. Pretty good for punching in calculations, or using a calculator.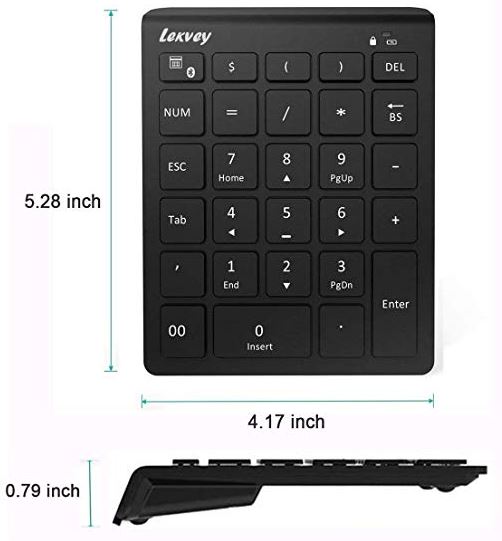 Other Considerations
As its name suggests, the Lekvey Keypad makes a wireless connection using Bluetooth 3, which supports a maximum operating distance of about ten meters. The keypad itself has a pretty soft touch. Typing on it feels like you have precise control over data entry. And the pad doesn't give off much sound when you hit the keys.
It's compatible with basically every Windows or Android system you might imagine. As long as it has Bluetooth, you can probably get the Lekvey Portable Wireless Keypad to play along. However, it's not compatible with Mac OS or iOS. You can't get Apple stuff to work with this keypad, primarily because of the special keys involved in the pad.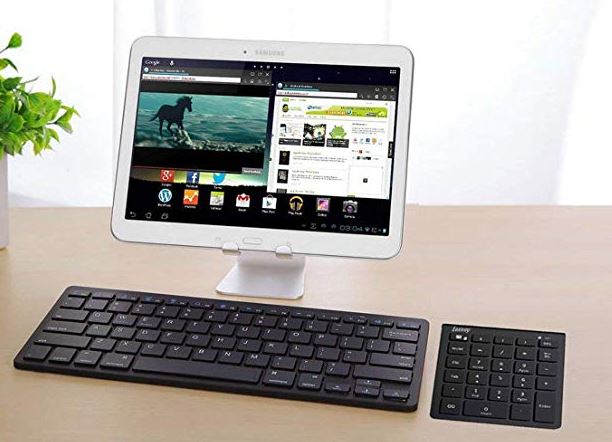 The Lekvey Keypad is powered with two AA batteries. Those batteries are not included. But once you've got some inside, you'll find this keypad provides a comparable battery lifespan to a battery powered mouse. You can use it for close to a year before you've got to think about changing the batteries.
Even if you're making very frequent use of the keypad, those battery expectations only slide closer to 6-months. And the Lekvey keypad uses an auto-off feature. If you don't use the pad for more than 15 minutes, it will go to sleep. Waking up the pad takes about three seconds. A minor inconvenience, but one that's worth it for conserving battery life.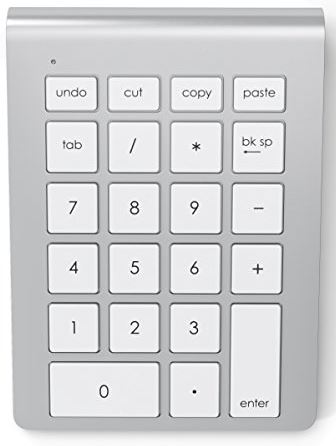 Satechi Aluminum Bluetooth Wireless Keypad
Sometimes looks matter. It's understandable that some people don't want to use a cheap-looking keypad, especially if the rest of your equipment is high quality. Having a $120 keyboard placed next to a $20 keypad, something is going to look out of place. For someone with these types of concerns, it may be worth considering the Satechi Aluminum Bluetooth Wireless Keypad.

Build & Design
This keypad looks like something Apple might have made in an alternative universe. But it's not only about good presentation. The chassis is made from aluminum, giving a high-class feel to the keypad, and an undeniable durability.
The keypad measures 8 x 1.4 x 5 inches and weighs about 11 ounces, making it considerably larger than the Lekvey pad. It's pretty hefty for a keypad, but that's the result of using metal components. That kind of weight doesn't really get in the way of portability, at least not in any serious way.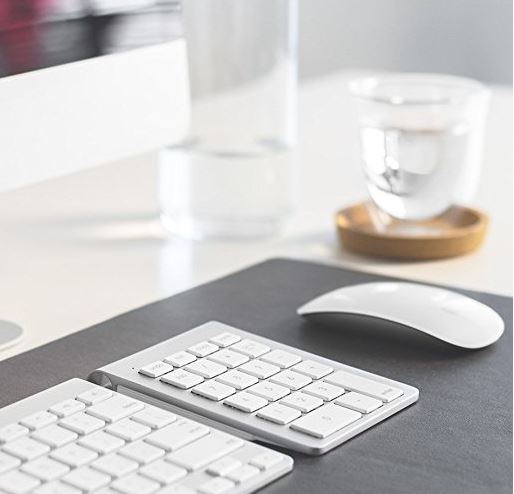 The Satechi Keypad is a 22 key pad. In addition to the numerical keys and arithmetic keys, you'll find an undo button, and cut/copy/paste buttons. Those buttons take up six rows, as opposed to the standard five rows in an ordinary keyboard keypad. Because these are universally standardized operation keys, you'll have no trouble getting a keypad like this to work with Apple products.
The base of the pad provides an ergonomic tilt that helps make for optimum comfort. And the bottom side is constructed with an anti-slip padding that is great for ensuring the keypad doesn't slide around during operation. Even when it's placed on a glass desk, it's pretty good at sticking in place. It would be nice if the angle of the pad could be adjusted slightly higher, but the current tilt isn't bad.
Other Considerations
This pad connects with the aid of Bluetooth 3. Your maximum connection distance is scarcely 25ft, which isn't terribly impressive, but it's unlikely to get in the way of most use cases. It also helps ensure the Satechi Keypad can be used with PC and Mac indiscriminately.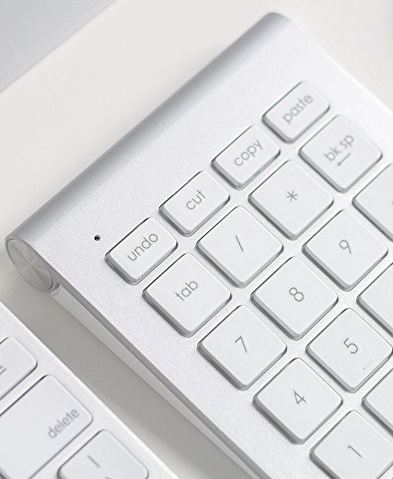 This keypad is powered by a pair of AAA batteries, which can provide up to six months of battery life. That's assuming you're putting out about one hour of number crunching every day. When you magnify your workload, you'll find battery times will drop to match.
This kit actually does include some batteries to help you get started, but it's nice to have replacements on hand anyway. Because the included batteries aren't spectacular. This keypad also includes a one-year warranty from Satechi.
Jelly Comb N030 Portable Mini USB 2.4GHz Numeric Keypad
Bluetooth keypads won't work for everyone; some people are better off running Wi-Fi. Which leads us to the Jelly Comb N030 Portable Mini USB 2.4GHz Numeric Keypad. Like the name suggests, this pad operates through the 2.4GHz Wi-Fi band instead of using Bluetooth.
From a wireless connection perspective, the biggest difference is that you don't need direct line of sight between the keypad and whatever it's connected with. Fairly convenient. But using Bluetooth will actually be a better choice for people who are in areas where the 2.4G band is crowded, or instances where a USB port is not available.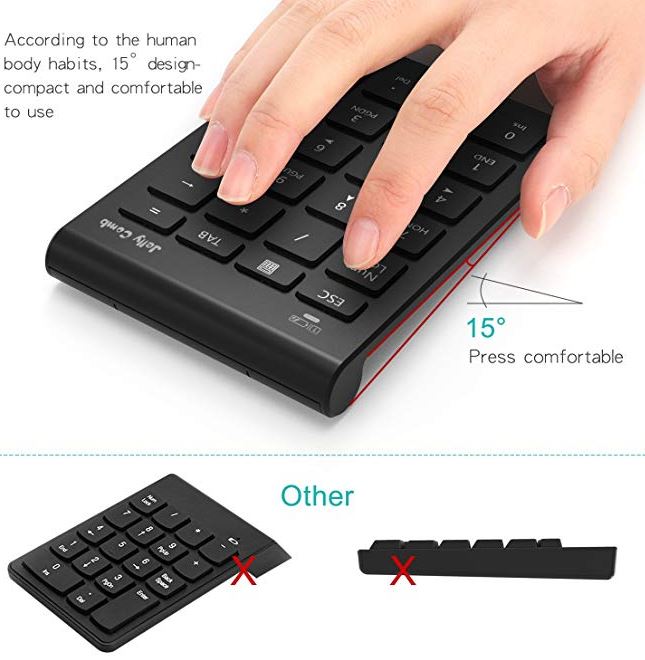 Build & Design
The N030 Portable Mini Numeric Keypad measures 5.7 x 3.5 x 1 inches. Fairly small and compact. True to its compact nature, this keypad is powered by a single AAA battery, which is not included. And as a fairly compact extender, this keypad provides a total of only 22 keys.
Among them, this pad adds four special function keys. The first is an escape key, the second is a calculator key, the third is a tab key, and the fourth is an equals function key. But these extra buttons are half-sized, which makes them marginally more difficult to use while doing rapid data input.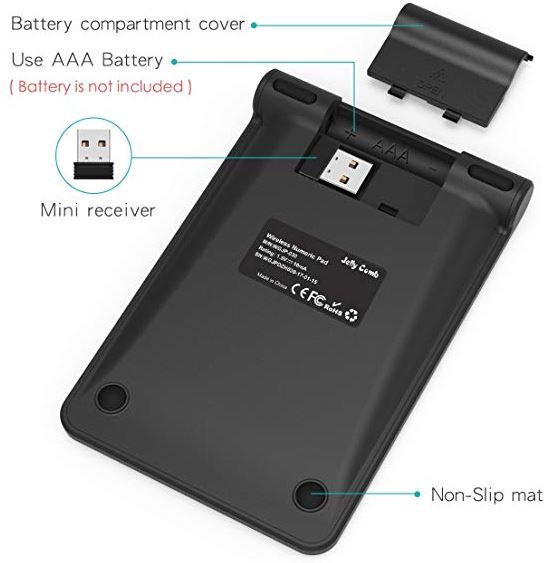 From a tactile standpoint, the keypad provides a smooth and responsive interface, not hesitating to react quickly to each keystroke. For certainly can't feel any latency during operation. But the smoothness of this experience is mostly the result of hardware instead of software.
Because this keypad was built with Outemu Blue switches. They're comparable with Cherry MX Blue switches, probably because they were intended to be an imitation. But they have a slightly louder click than Cherry Blues.
For style, the N030 is available in black or white. It's also available with a gold keypad or grey keypad, with either black or white keys. Plenty of options, though the style doesn't quite approach the same level of class as an aluminum build like the Satechi keypad.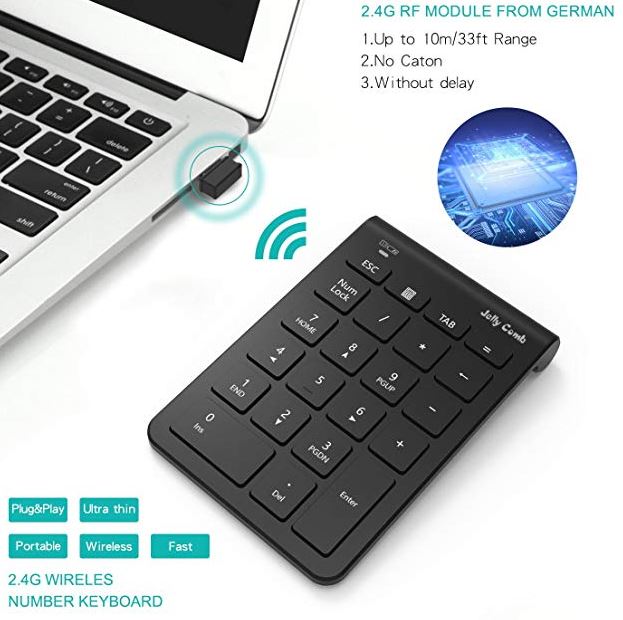 Other Considerations
As mentioned earlier, this keypad connects using the 2.4GHz Wi-Fi band, which is possible through a physical connection made with a mini USB adapter. It's sort of like plugging in a wireless mouse. The connection range provided by this 2.4GHz connection reaches out to about 33ft. Not bad, it beats many earlier variants of Bluetooth, and it's much better for circumstances where you don't have direct line of sight between sender and receiver.
Because this keypad uses and USB adapter, the whole thing is pretty much plug and play. Stick in the adapter and you're done. Your system may need to take a moment to recognize the keypad, but you won't have to start installing drives or special software to get the keypad recognized. It basically works as smoothly as plugging in a mouse or a keyboard.
The Jelly Comb N030 is compatible with Windows systems, but it's not compatible with Apple systems. Once again, that's because Apple doesn't support external function keys or buttons on their operating system.
Picking Between 3 of the Best Wireless Numeric Keypads
The Lekvey Portable Wireless Bluetooth 28-Key Numeric Keypad offers more keys than any other keypad on this list. Letting you tab between windows, giving you every button necessary to operate a calculator, this keypad provides a lot of options. Though it's marginally larger than the other keypads, it's probably the right choice for someone who makes a fairly frequent use of pad.
The Satechi Aluminum Bluetooth Wireless Keypad uses an impressive aluminum construction that gives it a distinctive style. This keypad is probably the right choice for a minimalist who places a high value on style and aesthetic. Apart from looking pretty, it provides some extra commands that are handy to have around. Satechi's keypad is a particularly good choice for Mac users due to its wide compatibility.
Finally, the Jelly Comb N030 Portable Mini USB 2.4GHz Numeric Keypad is the least expensive keypad on this list. But that doesn't mean it's the least impressive. It connects with Wi-Fi instead if Bluetooth, so you don't need a Bluetooth module to connect. It offers half a dozen style option, and it's constructed with some basic mechanical switches. That makes this a good choice for someone who can't use Bluetooth, but is still making pretty frequent use from their pad.