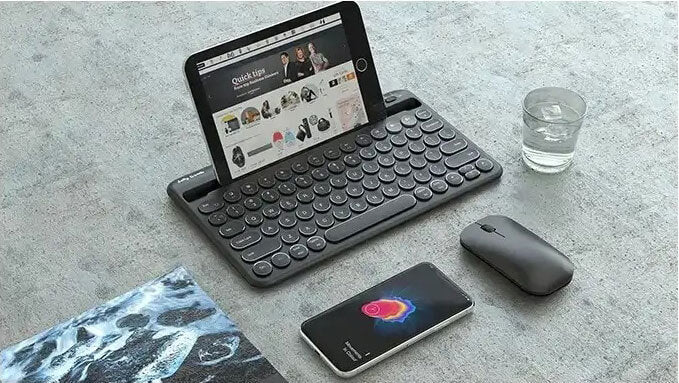 BLUETOOTH KEYBOARD
Bluetooth 3.0 technology provides a cable-free& clutter-free connection, operating distance10m.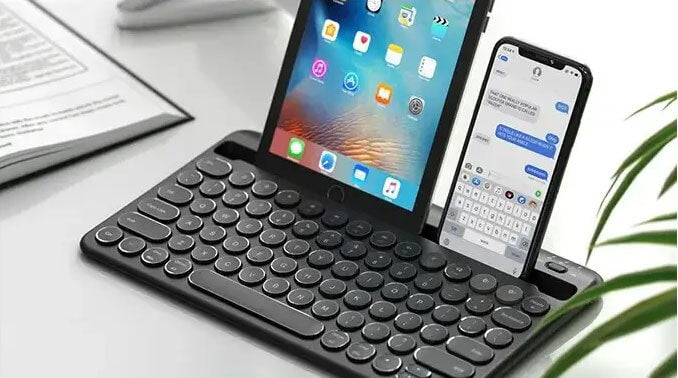 QUICK SWITCH TO 2 DEVICES
Fast channel switch between 2 devices withoutany interference or disconnection. No need torestart pairing process.0.46in slim solid bodywith integrated stand on both side, you can puton smartphone and tablet at the same time.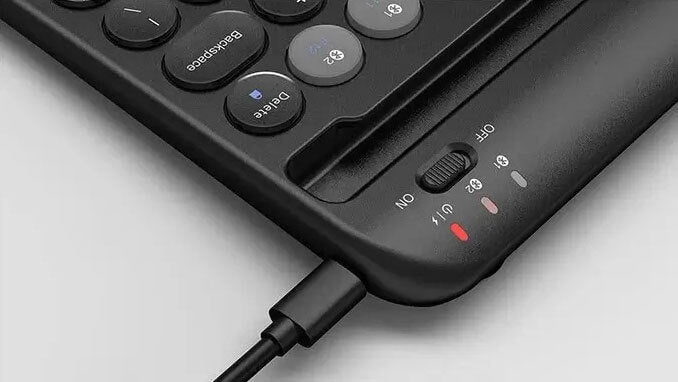 LONG TIME OPERATION
Separate ON/OFF switch and Smart auto sleepfeature design for power saving. Built-in 180mAh Rechargeable Li-ion Battery, 2 hoursfull charge, above 40 hours uninterrupted work,stand by for 6 months.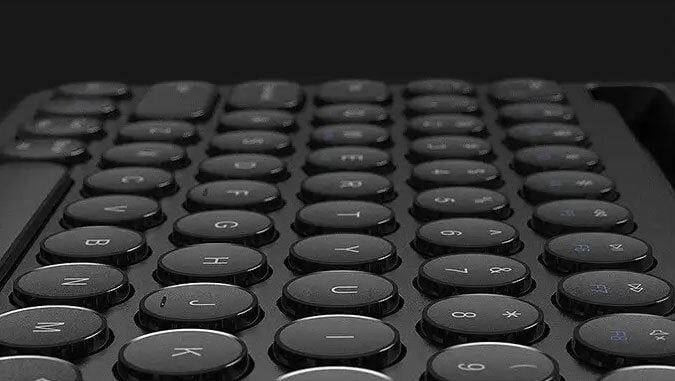 SMOOTH& LOW PROFILE
Scissor-Switch bluetooth keyboard providesyou with very comfortable and pleasing typingexperience. Our unique scissor-switch technology makes sure that even the softestkeystroke is enough, relieving any unneededstress while typing.
DIMENSIONS
Size: 11.34 x 6.75 x 0.46 in
Weight: 1.56 lbs
SYSTEM REQUIREMENTS
Required: Bluetooth 3.0
Supports most Bluetooth devices
iPad 2017/ 2018/ Air/ Mini/ Pro
iPhone Xs/Xr/8/8plus with iOS 5 or higher
Samsung Galaxy Tab/note 8
Samsung smart TV
Apple TV Gen 2/ 3
Android tablet with Android 3.2 or later
Surface pro, Amazon Kindle Fire HD 10
Windows 7/8/10 or later
MODEL INFO
Brand Number: B046
Manufacture Number: WGJP-046
WARRANTY INFO
1-Year Limited Warranty
30 Day Returns
Sunday,Monday,Tuesday,Wednesday,Thursday,Friday,Saturday
January,February,March,April,May,June,July,August,September,October,November,December
Not enough items available. Only [max] left.